A Special Message from our CEO regarding the COVID-19 virus
Dear Valued Customers,
I want to thank you for your patronage of Joyce/Dayton and assure you of our commitment to the continued supply of Screw Jacks and Linear Actuators through this unprecedented health crisis.
Please allow me a moment to share the steps we are taking to minimize the spread of COVID-19 within our facilities and ensure business continuity.
Over the past two weeks, based on direction from the Centers for Disease Control (CDC) and World Health Organization (WHO), we started a campaign to reinforce the importance of good hygiene practices in the workplace.
We have eliminated all domestic and international business travel and travel between our facilities for our employees. In our corporate office, we have transitioned over 95% of our workforce to a "work-from-home" status.
In our manufacturing facilities, we eliminated sales and vendor visits, encouraged minimal close contact, and increased decontamination of high contact common areas.
We continue to work closely with our supply chain to monitor and ensure an uninterrupted supply of raw materials and components.
Please understand that the situation is evolving rapidly and our response will continue to evolve as well.
We want to thank all the families who have people serving in the Public Health & Human Services sectors for their efforts to contain this outbreak to manageable levels.
On behalf of all Joyce employees, thank you again for your business and best wishes for good health for you and your families in the coming weeks.
Sincerely,
Michael Harris
CEO
Joyce/Dayton Corp.
A Proven Leader
Joyce/Dayton Corp., the premier manufacturer of Screw Jacks, Actuators, and Lifting Equipment in North America, has remained in continuous operation since it was established in 1873. Our long history of designing and manufacturing high quality products is unparalleled in the industry. Joyce Engineers are tenured and have the expertise needed to develop innovative solutions for today's customers.
A Giant in the Industry
Joyce/Dayton screw jacks and electric cylinders are routinely used to:
Maintain adjustment of large rolls in steel mill operations

Adjust conveyor height in machinery

Move and support huge structural elements used in municipal projects

Operate maintenance and material lifts for many industries

Stabilize and deploy equipment used in heavy mining and drilling operations

Operate gantry systems for dockside and other operations

Provide linear motion solutions in industrial applications worldwide
Joyce Offers Much More
Joyce/Dayton offers more than a catalog of standard products. Fundamental to our longevity and success in business is the commitment Joyce/Dayton makes to quality and service. Choose Joyce for quality industrial screw jacks, actuators and systems. Experience our unmatched Customer Service Support.
It's easy to do business with Joyce!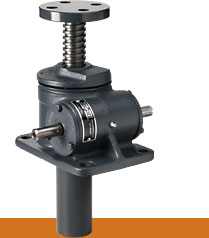 1-800-523-5204
Phone: 937-294-6261
Fax: 937-297-7173