Joyce metric screw jacks, series MWJ, are specifically designed for applications that must be fully metric. Both upright and inverted configurations operate at full capacity whether the load is in tension or compression. These jacks are commonly used in OEM machinery manufactured in the U.S. and shipped to other countries. They are fully interchangeable with several European products.
Self-locking metric (trapezoidal) lifting screws
Fully metric mounting hole locations, diameters, and fasteners
Alloy steel input shafts
Aluminum bronze wormgears and Traveling nuts
Tapered roller or ball thrust bearings provide rugged reliability
Protective boots available
Anti-backlash devices available
Joyce/Dayton can customize to your specifications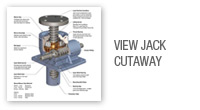 Parts list and exploded views are included in the O&M Manual. Serial numbers are attached to the product housing.
Joyce/Dayton provides motor controls ranging from simple Motor Starters to complex positioning systems and Custom controls. Every system that is powered by an electric motor requires a control system. At Joyce, we know that choosing the best option can sometimes be a challenge. That's why our Engineers are available to help you through the process.
Anti-backlash Devices

Available for machine screw jacks
Available for metric (trapezoidal) jacks
Limits lifting screw endplay

Encoders

Standard 200 or 1024 PPR
Quadrature wave form
Stainless steel encoder
Absolute encoder

Finishes

Enamel finish (standard)
Epoxy finish
STEEL IT® epoxy
Outdoor paint process
Custom finishes available
Anodized (250-lb to 1-ton)
Nickel, Xylan®, Armoloy®

Follower Nuts

For KFTN jack
For translating jack

Hand Wheels

4" – 12" dia. (standard)
Aluminum (standard)
Stainless steel available

Input Shaft (worm)

Square or hex to fit tool
Special lengths
17-4 stainless steel available
Metric diameters available
One side can be cut off
Other modifications available
Input shaft cover available

Limit Switches

Rotary cam (2-4 switches)
SPDT standard
DPDT available
Explosion proof available

Lubrication

Standard grease temperature range (40°F to 220°F)
Low temperature option
High temperature option
Food grade option

Machine Screws

Right hand thread standard
Left hand thread available on many models
Special material available
Special pitch/lead available
Special finishes available
Special machining options
Special end conditions available

Mechanical Counters

Motor Mounts

NEMA mounts available on 2-ton to 20-ton wormgear jacks and electric cylinders
NEMA mounts included on integrated actuators
Servo motor mounts available on 2-ton to 10-ton jacks and electric cylinders, special mounts available
Custom mounts available

Potentiometers

0-10V (POTA)
4-20mA (POTB)
0-10V with limit switches (POTC)
4-20mA with limit switches(POTD)
IP65

Protective Boots

Protection from dirt and dust
Guard against moisture
Guard against corrosive contaminants
Neoprene coated nylon (std)
Special materials available

Screw Stops

Standard on ComDRIVEs
Adjustable
Bolt- on

Thrust Rings

Used in applications where static loads exceed jack capacity
Sample Part Number:
Click on the part number to reveal additional informaton about jack designs and shaft codes.
Model Number
10 kN
25 kN
50 kN
100 kN
MWJ51
MWJ201
MWJ62.5
MWJ122.5
MWJ242.5
MWJ65
MWJ125
MWJ245
MWJ810
MWJ2410
Jack Configuration
| | |
| --- | --- |
| | |
| U=Upright | I=Inverted |
End Conditions
1=T1
(plain end)

2=T2
(load pad)

3=T3
(threaded end)

4=T4
(male clevis)
Jack Designs
S=Translating

K=Keyed for Non Rotation

N=Traveling Nut

D=Double Clevis

R=KFTN Trunnion*
T=Trunnion*
* Standard trunnion mounts available on 2-ton through 20-ton jacks.
Metric Screw Jack Rise
Rise is travel expressed in millimeters and not the actual screw length.
Left Side Shaft Code

Right Side Shaft Code

XXXX=Remove
STDX=Standard

XXXX=Remove
STDX=Standard
---
Optional Shaft Codes
Screw Stops and Boots
Screw stops are optional on metric screw jacks. When specified, the closed height of the jack and/or the protection tube length may be increased. When boots are added to metric screw jacks, the closed height of the jack may be increased.
Mechanical Counters
CNT0=0.001" Increments
Note: Contact Joyce/Dayton for availability and options.
Hand Wheels
HW04=4" dia
HW06=6" dia
HW08=8" dia
HW10=10" dia
HW12=12" dia
Geared Potentiometers
POTA=0-10V (IP65)
POTB=4-20MA (IP65)
POTC=0-10V w/2 switches*
POTD=4-20MA w/2 switches*
*Optional IP65 rating available
Encoders and Electronic Limit Switches
ENCX=Encoder
ELS2=2 Position Electronic Switch
ELS4=4 Position Electronic Switch
ELS6=6 Position Electronic Switch
Motor for Systems and Direct Drive
All standard motors are 3-phase, 208-230/460 VAC or 230/460 VAC. Other motor options are available. Specify the appropriate motor size from the chart on the right.
Refer to the "Additional Options" chart on the preceding page as needed.
Brake motors (M2) are recommended for jacks that are not self-locking, and jacks with double lead screws.
If the motor frequency will be varied to provide a "soft" start an inverter duty motor may be required.
Motors
| Size | Code |
| --- | --- |
| 1/4 HP | K |
| 1/3 HP | A |
| 1/2 HP | B |
| 3/4 HP | C |
| 1 HP | D |
| 1-1/2 HP | E |
| 2 HP | F |
| 3 HP | L |
| 5 HP | G |
| 7-1/2 HP | H |
| 10 HP | I |
| 15 HP | J |
Motor Mounts
Ordering Example:
MMA A (Motor code from chart above)
MMA=56C
MMB=140TC
MMC=180TC
MMD=210TC
Standard motor adapters are aluminum
Mechanical Limit Switches
Ordering Example:
LA (Models) 1(Number of DPDT Switches) 3(Available Positions)
Model
Code
 
Available Positions
LS7-402
LI

Number of DPDT Switches

NOTE: Will always be 0 for LS7 models

 
1
2
3
4
5
6
7
8
LS8-402
LA
Left Side Shaft Options
LS8-504
LB
LS9-502
LC
LS9-503
LD
Right Side Shaft Options
LS9-504
LE
LS9-505
LF
LS9-506
LG

2, 3, 5, 10, 15, and 20 ton jacks are available with positions #1, #3, and #5
25, 30, 35, 50, 75, 100, and 150 ton jacks are available with positions #1, #4, #7, and #8

These positions are not standard. Contact Joyce/Dayton with your requirements.

LS9-507
LH
Additional Options
X=Standard Jack, no additional options
S=Additional Specification Required (comment as necessary)
Anti-Backlash
A=Split Nut
A90=A90 Design
A95=A95 Design
Protective Boots
B=Protective Boot
D=Dual Protective Boot
Finishes
F1=Do Not Paint
F2=Epoxy Paint
F3=Outdoor Paint Process
Motor Options
M1=Less Motor
M2=Brake Motor
M3=Single Phase Motor (120VAC)
M4=50Hz Motor
Grease/Seals
H1=High Temperature Operation
H2=Food Grade
Screw Stops
ST0=Extending
ST1=Retracting
ST2=Both
Specify as many options as needed
Model
Capacity
Screw Diameter (mm)
Thread Pitch/Lead
Worm Gear Ratio
Worm Shaft Turns for 1mm Travel
Tare Torque (Nm)
Starting Torque (Nm)
Operating Torque (Nm)
Efficiency Rating % Approx
Screw Torque (Nm)
Basic Jack Weight (Kg)
Jack Weight
(Kg) per 25mm Travel
MWJ51
10 kN
20
5mm
5:1
1
0.33
.95W*
.70W* @
500 RPM
22.7
2W*
2.7
0.14
MWJ201
10 kN
20
5mm
20:1
4
0.33
.41W*
.23W* @
500 RPM
17.0
2W*
2.7
0.14
MWJ62.5
25 kN
30
6mm
6:1
1
0.67
1.01W*
.81W* @
500 RPM
19.6
3W*
6.8
0.18
MWJ122.5
25 kN
30
6mm
12:1
2
0.67
.62W*
.45W* @
500 RPM
17.8
3W*
6.8
0.18
MWJ242.5
25 kN
30
6mm
24:1
4
0.67
.44W*
.27W* @
500 RPM
14.7
3W*
6.8
0.18
MWJ65
50 kN
40
9mm
6:1
0.67
1.13
1.64W*
1.14W* @
300 RPM
20.9
4W*
14.5
0.32
MWJ125
50 kN
40
9mm
12:1
1.33
1.13
1.03W*
.64W* @
300 RPM
18.7
4W*
14.5
0.32
MWJ245
50 kN
40
9mm
24:1
2.67
1.13
.74W*
.39W* @
300 RPM
15.2
4W*
14.5
0.32
MWJ810
100 kN
55
12mm
8:1
0.67
2.26
1.53W*
1.18W* @
200 RPM
20.2
5W*
19.5
0.59
MWJ2410
100 kN
55
12mm
24:1
2
2.26
.76W*
.49W* @
200 RPM
16.1
5W*
19.5
0.59
*W: Load in kN.
Tare Torque: Initial torque to overcome seal and normal assembly drag. This value must be added to starting torque or operating torque values.
Starting Torque: Torque value required to start moving a given load (dissipates to operating torque values once the load begins moving).
Operating Torque: Torque required to continuously raise a given load at the input RPM listed. Note: If your actual input RPM is 20% higher or lower than the listed RPM, please refer to our JAX program to determine actual torque values at your RPM.
Screw Torque: Torque required to resist screw rotation (Translating Design Jacks) and traveling nut rotation (Keyed for Traveling Nut Design Jack).
Lead: The distance traveled axially in one rotation of the lifting screw.
Pitch: The distance from a point on a screw thread to a corresponding point on the next thread measured axially.