Web-based Linear Motion Design Software
Our easy-to-use JAX ® Online software enables you to specify the right jacks and components for your ideal lifting and linear motion systems. You can start with a complete set of requirements, or just a few simple inputs, and let JAX ® Online suggest the perfect components. The detailed reports created are complete and ideal for inclusion in technical project files, saving you time and minimizing headaches.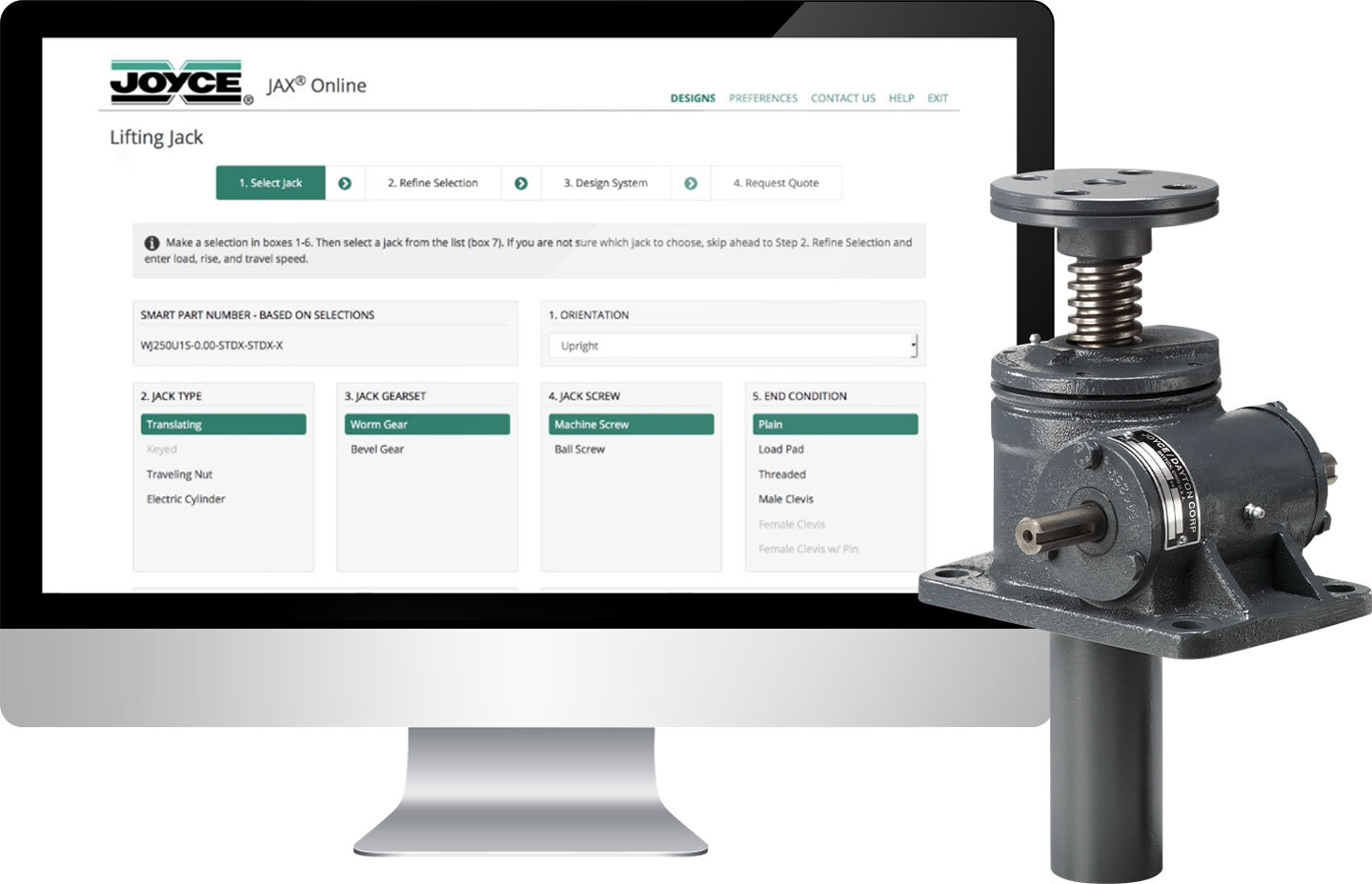 Use JAX Online to:
Size jacks and complete systems, from any computer
Automatically configure and download 2D and 3D models of specific jacks
Save files to your private account and return to your designs at anytime
Evaluate multiple combinations and options before choosing your final design
Automatically generate a bill of materials in real-time
Request a quote and transmit your requirements with a single click
JAX ® Online is just one more example of how Joyce/Dayton is committed to providing designers and engineers with the tools they need to succeed.
Quick Start Jack and System Building Videos
Web-based JAX® Online software enables you to quickly specify the best jack or actuator for your application.
Watch this quick tutorial video to learn the easy steps you need to get started.
You'll see how to:
Enter your system requirements of load, travel speed and rise and allow the program to find the right jack or electric cylinder for you.
Configure, view, and download 3D models and drawings
Save progress on project files in your password protected account.
Generate technical data sheets complete with torque and power requirements
Access your project files from any desktop computer.
Automatically submit a Request for Quote for the jack or electric cylinder you specify
Design single or multi-jack systems complete with bill of materials
The result is that JAX Online software will help you accurately specify the products you need and quickly receive quotes for those products. You can even save these JAX files into your personal account for completion at later times and access the files from any computer.
See how easy it is to build a multi-jack system using web-based JAX Online System Designer and submit it for a quote.
This video expands on the information presented in the Quick Start video, Lifting Jack.
You'll learn how simple it is to:
Click and drag components to build the right lifting system for your application
Download a report with detailed jack information, system diagram and bill of materials
Save project files to your personal account and access them from any computer
Submit your design for a Request for Quote for the entire system