Page Header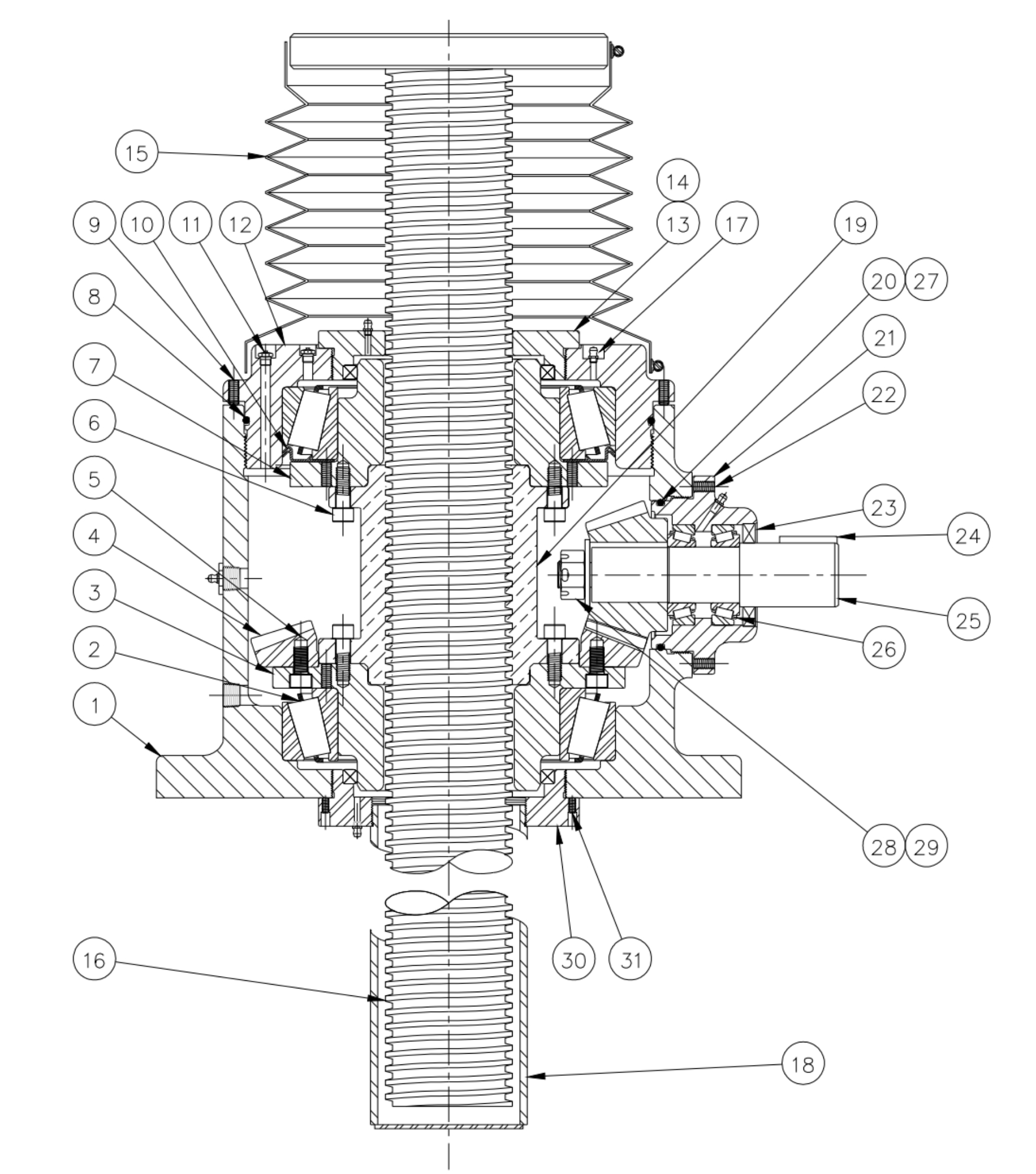 Bevel Gear Jacks
About Bevel Gear Jacks
Joyce Bevel Gear® Jacks, available in 7.5-ton to 100-ton static capacities, offer higher efficiency and greater speed than other mechanical screw jacks. As an added benefit, bevel gear jacks also act as miter boxes, making them an ideal choice for multi-jack systems. As many as three output shafts may be specified for mounting motors, limit switches, readout devices and other accessories. Bevel gear jacks with single lead screws (S series) provide the benefits of a self-locking screw, and bevel gear jacks with double lead screws (D series) offer even greater travel speed.
Choose one of four standard end conditions
Protective boots and other options are available
Right hand and left hand screw threads are available
Joyce/Dayton can customize to your specifications
Product Media
Joyce offers motor controls ranging from simple Motor Starters to complex positioning systems and Custom controls. Every system that is powered by an electric motor requires a control system. At Joyce, we know that choosing the best option can sometimes be a challenge. That's why our Engineers are available to help you through the process.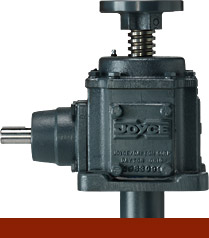 Available Models
Items to consider when selecting motors and mounting configurations:
Use Quick Reference Charts determine the motor horsepower and gear reduction required to reach your target speed. For example, slow travel of just a few inches per minute will require a high ratio electric cylinder paired with a 10:1 ratio external gear reducer. While fast travel up to 546 inches per minute will require a low ratio electric cylinder paired with a direct drive motor.
Standard model Electric Cylinders are purchased without a motor or external gear reducer.
Direct Drive models have the motor mounted directly to the input shaft of the Electric Cylinder. The motor extends at a 90 degree angle from eh electric cylinder.
ComDRIVE models have mounted external gear reducers and motors. The combination of internal and external gear reduction is specified and it accounts for output speed of the specific electric cylinder.
NOTE: Brake motors must be specified for all ballscrews Electric Cylinders (ECB).and for any acme Screw Electric Cylinder (ECA) with an efficiency ratio greater than or equal to 30%.
Smaller Capacity Linear Actuators are available from Joyce:
Multipurpose Actuators - 1600 lb max. capacity, both AC and DC available, speeds to 96 in./min.
Integrated Actuators - 2000 lb. max. Capacity, AC, speeds to 345 in./min.
Customization and Special Finishes:
Joyce can customize your Electric Cylinders to meet your requirements.
Premium external finishes
Proprietary Outdoor paint process resists corrosive elements and works well in harsh environments.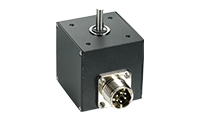 Encoders
Standard 200 or 1024 PPR
Quadrature wave form
Stainless steel encoder
Absolute encoder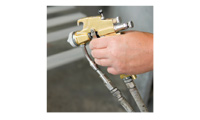 Finishes
Enamel finish (standard)
Epoxy finish
STEEL IT® epoxy
Outdoor paint process
Custom finishes available
Anodized (250-lb to 1-ton)
Nickel, Xylan®, Armoloy®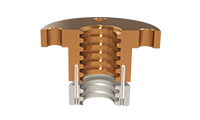 Follower Nuts
For KFTN jack
For translating jack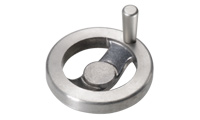 Hand Wheels
4" – 12" dia. (standard)
Aluminum (standard)
Stainless steel available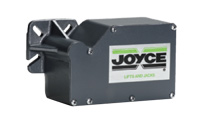 Limit Switches
Rotary cam (2-4 switches)
SPDT standard
DPDT available
Explosion proof available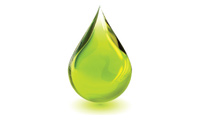 Lubrication
Standard grease temperature range (40°F to 220°F)
Low temperature option
High temperature option
Food grade option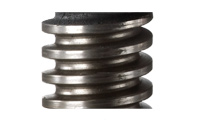 Machine Screws
Right hand thread standard
Left hand thread available on many models
Special material available
Special pitch/lead available
Special finishes available
Special machining options
Special end conditions available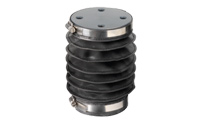 Protective Boots
Protection from dirt and dust
Guard against moisture
Guard against corrosive contaminants
Neoprene coated nylon (std)
Special materials available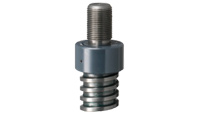 Screw Stops
Standard on ComDRIVEs
Adjustable
Bolt- on
Sample Part Number:
Click on the part number to reveal additional informaton about jack designs and shaft codes.
Model Number
Joyce Bevel Gear® Jacks
BG150S
BG1500S
BG250S
BG150S
BG375S
BG150S
BG450S
BG150S
Jack Configuration
Jack Configuration
U= Upright
I= Inverted
End Conditions
Jack Design
Actuator Design
S= Translating
Keyed for Non Rotation
N= Travelling Nut
Bevel Ball Actuator Rise
Bevel Ball Actuator Rise
Rise is travel expressed in inches and not the actual screw length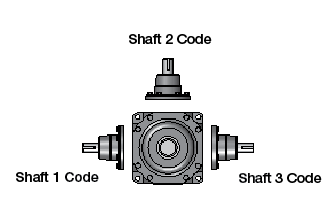 Shaft Codes
Three shaft codes must be specified for each jack. Electronic and mechanical limit switches may be substituted for the shaft code per the tables on this page.
STDX- Standard
XXXX- Input shaft no required
When ordering with only one input shaft, it is recommended to order the following configuration: XXXX-STDX-XXXX
Additional Options X= Standard Jack, no additional options X= Additional Specification Required (comment as necessary) Protective Boots B= Protective Boot D= Dual Protective Boot Finishes F1= Do Not Paint F2= Epoxy Paint F3= Outdoor Paint processes ACME Screw L= Left hand Screw Screw Stops ST0=Extending
ST1=Retracting
ST2=Both
Model
Dynamic Capacity
Upright Assembly: Screw-in compression/
inverted assembly: screw-in tension
Upright Assembly: screw-in tension/ inverted assembly: Screw-in compression
Screw Dia.
Screw Pitch/Lead
Bevel Gear Ratio
Pinion Turns for 1" Travel
Pinion Torque (In. Lbs.)
Screw Torque
Jack Efficiency
Jack† Cooling Time
Base Weight (Lbs.)
Add for Each Inch of Travel (Lbs.)
BG150-S
Please
use
JAX
Software
or contact Joyce /
Dayton
14,000 lbs.
14,000 lbs.
1 ½"
.375 STUB ACME
2.69:1
7.18
.059W*
.151W*
38.5%
38 min.
42
0.8
BG150-D*
14,000 lbs.
14,000 lbs.
1 ½"
.250P / .500L STUB ACME 2C
2.69:1
5.38
.066W*
.169W*
45.6%
38 min.
42
0.8
BG250-S
30,000 lbs.
30,000 lbs.
2 ½"
.500P ACME 2C
2.15:1
4.31
.111W*
.227W*
34.2%
82 min.
140
2.6
BG250-D*
30,000 lbs.
30,000 lbs.
2 ½"
.375P / .750L ACME 2C
2.15:1
2.87
.133W*
.272W*
42.6%
82 min.
140
2.6
BG375-S
66,000 lbs.
40,000 lbs.
3 ¾"
666P ACME 2C
3.52:1
5.29
.098W*
.329W*
31.5%
192 min.
230
4.1
BG375-D*
66,000 lbs.
40,000 lbs.
3 ¾"
.666P / 1.333L STUB ACME
3.52:1
2.64
.134W*
.448W*
46.0%
192 min.
230
4.1
BG450-S
218,000 lbs.
200,000 lbs.
4 ½"
.500P ACME 2C
3:1
6
.125W*
.356W*
21.9%
262 min.
650
5.5
BG450-D*
218,000 lbs.
200,000 lbs.
4 ½"
.500P / 1.00L ACME 2C
3:1
3
.154W*
.438W*
35.5%
262 min.
650
5.5
Important Note: *Not self-locking, may lower under load. Brake motors or external locking systems are recommended.
D: Double Lead Screws.
S: Single Lead Screws. These jacks are self-locking.
*W: Load in Pounds.
Pinion Torque: The torque required to continuously raise a given load.
Screw Torque: The torque required to resist screw rotation (translating jack design) and traveling nut rotation (keyed for traveling nut design).
Lead: The distance traveled axially in one rotation of the lifting screw.
Pitch: The distance from a point on the screw thread to a corresponding point on the next thread, measured axially.
†: Cooling time based on time to cool from 200°F to 70°F (ambient).