Page Header

AC & DC Multipurpose Actuators
About AC & DC Multipurpose Actuators
Joyce multipurpose actuators (MA) are compact, versatile and designed to lift dynamic loads ranging from 500N (112 pounds) to 7000N (1574 pounds) and at travel speeds up to 47 mm/sec (111 in/min). Each 120 VAC or 12 VDC linear actuator is equipped with a potentiometer and preset limit switches, and offers an IP65 rating that qualifies them for many wash-down and outdoor duty applications. A selection of AC and DC models is available to meet your specific requirements.
Compatible controls for both AC and DC Multipurpose Actuators are available from Joyce.
Illustrations and schematics are included in the O&M Manual. Serial numbers are etched in the product housing below the Joyce logo.
Additional linear actuator options:
Electric Cylinders -2.5-ton to 20-ton capacity, speeds up to 546"/min
Integrated Actuators - up to 1-ton capacity, speeds up to 345"/min
High Speed - High Precision Actuators by EDRIVE - up to 33-ton capacity, speeds up to 3900"/min, precision up to .0002"/ft.
Product Media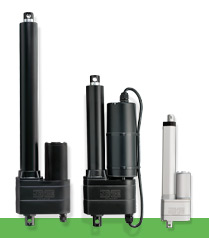 Available Models
Joyce offers premium finishes, outdoor paint process, and custom finishes to meet your specifications. We have a hassle-free process for delivering what you need
What you need to know to specify Integrated Actuators in industrial applications
Integrated Actuators are rated for a1-ton static thrust capacity. Selection of the best actuator for the application may require further consideration.
1. First determine the magnitude of load to be moved and the desired travel speed. Integrated Actuators are designed for most often driven by electric motors mounted directly to the NEMA 56C motor mount. Horsepower requirements are based on travels peed of dynamic load.
2. Contact a Joyce application engineer if your travel distance is greater than 24".
3. Four Integrated actuator product variations are available.
IA – features a single lead acme screw. This option is self-locking in the absence of vibration
DIA – features a double lead acme screw. Faster travel speeds, not self-locking
BIA – features a ball screw. Equal loads require less horsepower than acme version, requires a brake motor
HBIA – features a high-lead ball screw. Achieves fastest travel speed for product category
4 Two integrated actuator designs are available.
Translating tube (IA/DIA -TT or BIA/HBIA - TT) actuators are most commonly used. The load attaches to the clevis end, which extends (translates) in and out.
Traveling Nut (IA/DIA-TN, or BIA/HBIA-TN) actuators are designed with a fixed-length, rotating screw with a traveling nut. The load is attached to the traveling nut.
5. How frequently will the jack need to move the load? Integrated actuators are not designed for continuous use. Duty cycles should include a period of rest.
6. Limit switches, mounting brackets, ring encoders and special finishes are available for Integrated Actuators.
7. Standard motors have 56C frames and 230 volts, 3 phase, 60 hertz, but you may specify voltage, horsepower, and frequency needed for your application.
Where are integrated Actuators used?
Integrated Actuators are versatile and used widely throughout industry. Mount virtually any voltage, or frequency motor to the 56C motor mount. Application examples include: Gate openers, Damper adjustments, Conveyor adjustments, Platform lifts, Ergonomic lifts, Packaging equipment, Door openers.
Sample Part Number:
Click on the part number to reveal additional informaton about jack designs and shaft codes.
Model Number
500N
(122 lb) DC
1500N
(337 lb) AC & DC
2500N
(562 lb) AC & DC
3500N
(787 lb) AC & DC
4500N
(1012 lb) AC & DC
7000N
(1574 lb) AC & DC
MA0513
MA1527

MA2547
MA3507
MA3527
MA4514
MA7007
Type of switch
B = Potentiometer and preset limit switches
Voltage
1 = VDC
8 = VAC
12 VDC
12 VDC
120 VAC

MA0513

MA1527, MA2547, MA3507, MA3527, MA4514, MA7007

MA1527, MA2547, MA3507, MA3527, MA4514, MA7007
IP Rating
1 = IP65
Dust tight and protected against water jets
Stroke
Rise is travel expressed in inches and not the actual screw length.
120 VAC Multipurpose Actuator Part Numbers

Part Number
Voltage
Load N
(lbs)
Travel Speed
mm/sec
(in/min)
Stroke
mm
(in)
Retracted (A)
mm
(in)
MA1527B8115
120 VAC
1500
337
23
54
153
6
410
16.1
MA1527B8130
120 VAC
1500
337
23
54
305
12
613
24.1
MA1527B8145
120 VAC
1500
337
23
54
457
18
765
30.1
MA2547B8115
120 VAC
2500
562
41
96
153
6
450
17.7
MA2547B8130
120 VAC
2500
562
41
96
305
12
680
28.8
MA2547B8145
120 VAC
2500
562
41
96
457
18
832
32.8
MA3507B8115
120 VAC
3500
787
6
14
153
6
410
16.1
MA3507B8130
120 VAC
3500
787
6
14
305
12
613
24.1
MA3507B8145
120 VAC
3500
787
6
14
457
18
765
30.1
MA3527B8115
120 VAC
3500
787
23
54
153
6
450
17.7
MA3527B8130
120 VAC
3500
787
23
54
305
12
680
26.8
MA3527B8145
120 VAC
3500
787
23
54
457
18
832
32.8
MA4514B8115
120 VAC
4500
1012
12
28
153
6
450
17.7
MA4514B8130
120 VAC
4500
1012
12
28
305
12
680
26.8
MA4514B8145
120 VAC
4500
1012
12
28
457
18
832
32.8
MA7007B8115
120 VAC
7000
1574
6
14
153
6
450
17.7
MA7007B8130
120 VAC
7000
1574
6
14
305
12
680
26.8
MA7007B8145
120 VAC
7000
1574
6
14
457
18
832
32.8
12 VDC Multipurpose Actuator Part Numbers

Part Number
Voltage
Load N
(lbs)
Travel Speed
mm/sec
(in/min)
Stroke
mm
(in)
Retracted (A)
mm
(in)
MA0513B1110
12 VDC
500
112
13
31
100
3.9
246
9.7
MA0513B1115
12 VDC
500
112
13
31
150
5.9
297
11.7
MA0513B1125
12 VDC
500
112
13
31
250
9.8
399
15.7
MA0513B1130
12 VDC
500
112
13
31
300
11.8
450
17.7
MA1527B1115
12 VDC
1500
337
27
64
153
6
410
16.1
MA1527B1130
12 VDC
1500
337
27
64
305
12
613
24.1
MA1527B1145
12 VDC
1500
337
27
64
457
18
765
30.1
MA2547B1115
12 VDC
2500
562
47
111
153
6
450
17.7
MA2547B1130
12 VDC
2500
562
47
111
305
12
680
28.8
MA2547B1145
12 VDC
2500
562
47
111
457
18
832
32.8
MA3507B1115
12 VDC
3500
787
7
17
153
6
410
16.1
MA3507B1130
12 VDC
3500
787
7
17
305
12
613
24.1
MA3507B1145
12 VDC
3500
787
7
17
457
18
765
30.1
MA3527B1115
12 VDC
3500
787
27
64
153
6
450
17.7
MA3527B1130
12 VDC
3500
787
27
64
305
12
680
26.8
MA3527B1145
12 VDC
3500
787
27
64
457
18
832
32.8
MA4514B1115
12 VDC
4500
1012
14
33
153
6
450
17.7
MA4514B1130
12 VDC
4500
1012
14
33
305
12
680
26.8
MA4514B1145
12 VDC
4500
1012
14
33
457
18
832
32.8
MA7007B1115
12 VDC
7000
1574
7
16.5
153
6
450
17.7
MA7007B1130
12 VDC
7000
1574
7
16.5
305
12
680
26.8
MA7007B1145
12 VDC
7000
1574
7
16.5
457
18
832
32.8