Page Header

Multipurpose Actuators (12 VdC) - Lift up to 7000N
MA2547, MA3527, MA4514, MA7007
Joyce MA2547, MA3527, MA4514, and MA7007, multipurpose linear actuators are compact, versatile and designed to lift 7000N (1574 pounds) dynamic load, and 13,600N (3057 pounds) static load. Each 120 VDC actuator is equipped with a potentiometer and adjustable, preset limit switches, and offers an IP65 rating that qualifies them for many wash-down and outdoor duty applications.
Clevis-to-clevis mounting
Stroke lengths of 153 mm (6 in.), 305 mm (12 in.), and 457 mm (18 in.)
Self-locking
25% duty cycle
Stainless steel extension tube, steel outer tube
2D/3D Drawings
Login to access 2D/3D Drawings
Product Media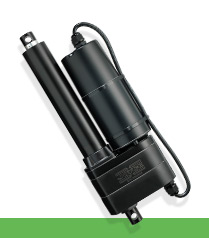 Available Models
Steel extension tube
Aluminum alloy housing
Clevis-to-clevis mounting
IP65 protection rating
Preset limit switch (adjustable)
Potentiometer
Sample Part Number:
Click on the part number to reveal additional informaton about jack designs and shaft codes.
Model Number
500N
(122 lb) DC
1500N
(337 lb) AC & DC
2500N
(562 lb) AC & DC
3500N
(787 lb) AC & DC
4500N
(1012 lb) AC & DC
7000N
(1574 lb) AC & DC
MA0513
MA1527

MA2547
MA3507
MA3527
MA4514
MA7007
Type of switch
B = Potentiometer and preset limit switches
Voltage
1 = VDC
8 = VAC
12 VDC
12 VDC
120 VAC

MA0513

MA1527, MA2547, MA3507, MA3527, MA4514, MA7007

MA1527, MA2547, MA3507, MA3527, MA4514, MA7007
IP Rating
1 = IP65
Dust tight and protected against water jets
Stroke
Rise is travel expressed in inches and not the actual screw length.
Part Number
Voltage
Load N
(lbs)
Travel Speed
mm/sec
(in/min)
Stroke
mm
(in)
Retracted (A)
mm
(in)
MA2547B8115
120 VAC
2500
562
41
96
153
6
450
17.7
MA2547B8130
120 VAC
2500
562
41
96
305
12
680
28.8
MA2547B8145
120 VAC
2500
562
41
96
457
18
832
32.8
MA3527B8115
120 VAC
3500
787
23
54
153
6
450
17.7
MA3527B8130
120 VAC
3500
787
23
54
305
12
680
26.8
MA3527B8145
120 VAC
3500
787
23
54
457
18
832
32.8
MA4514B8115
120 VAC
4500
1012
12
28
153
6
450
17.7
MA4514B8130
120 VAC
4500
1012
12
28
305
12
680
26.8
MA4514B8145
120 VAC
4500
1012
12
28
457
18
832
32.8
MA7007B8115
120 VAC
7000
1574
6
14
153
6
450
17.7
MA7007B8130
120 VAC
7000
1574
6
14
305
12
680
26.8
MA7007B8145
120 VAC
7000
1574
6
14
457
18
832
32.8