Actuators
About Actuators
Joyce electric cylinders and actuators lift and precisely position loads up to 20 tons. Requiring only electric power, Joyce actuators are commonly chosen to replace hydraulic and pneumatic cylinders.
For loads up to 1-ton, choose from multipurpose actuators (MA) with integral AC or DC motors and limit switches, or choose integrated actuators (IA) which feature a 56C motor flange permitting users to select a specific motor.
Electric cylinders are available as motorized units designed to meet specific travel distance and travel speed requirements. Available with either machine screws or ball screws, the enclosed screw offers benefits in wet and corrosive environments. Choose from capacities up to 20 tons,speeds up 546 inches/ minute, and travel distances up to 100 inches.
Selecting an actuator
For applications requiring an Integrated AC or DC motor, select a Multipurpose Actuator
For applications with Load capacity up to 1 Ton, select Integrated Actuators or Multipurpose Actuators
For applications with High load capacity up to 20 Tons, select an Electric Cylinder
More Information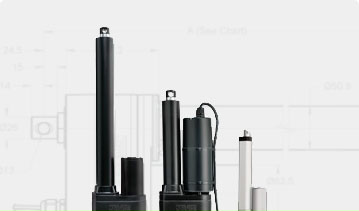 Joyce provides motor controls for electric cylinders ranging from simple Motor Starters to complex positioning systems and Custom controls.
Compatible controls for Multipurpose Actuators are also available.
Every system that is powered by an electric motor requires a control system. At Joyce, we know that choosing the best option can sometimes be a challenge. That's why our Engineers are available to help you through the process.