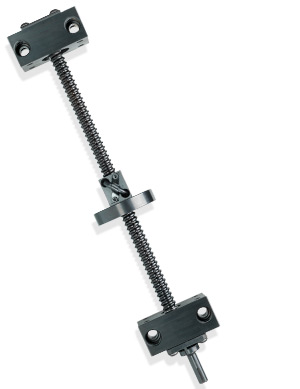 Joyce/Dayton Announces the Addition of a Complete Line of Ball Screws and Nuts, and Bearing Block End Supports
DAYTON, Ohio (June 2012) Joyce/Dayton is pleased to announce the addition of ball screws, ball nuts, bearing block end supports, and precision end machining to its extensive line of acme and metric screw and nut assemblies. The new products include ball screws in diameters ranging from 5/8 inch to 4.000" with corresponding ball nuts, each with a protective black oxide coating. Bearing blocks are factory lubricated, sealed, and suitable for high duty cycle conditions. Joyce offers precision screw end conditions that mate with Joyce bearing blocks. Customers can also specify end conditions to meet their design requirements.
The website has been expanded to include dimensions and more technical details for all Joyce/Dayton screws and nuts, as well as for bearing blocks and precision end conditions. Most of these products are in stock and ready to be finished to customer specifications, keeping lead-time to a minimum. Favorable lead-times coupled with competitive pricing makes Joyce the ideal choice for screw and nut products.