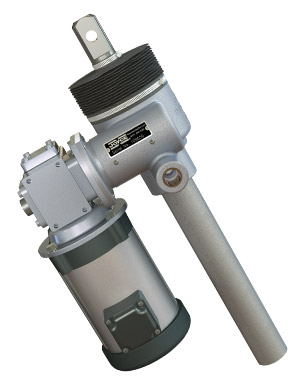 Joyce/Dayton offers a complete line of solar tracking drive jacks specifically designed for heavy-duty tracking applications. These jacks position loads at speeds typical of the solar industry. They include an integrated trunnion mount for simplified mounting, cast aluminum housing for corrosion resistance, and optimized drive efficiency for reduced operating costs. Available in acme screw and ball screw models, their flexible design can be modified to your load, speed and travel distance requirements.
A full line of solar tracking drive actuators (SA) capable of moving loads up to 2000-pounds is also available. These self-locking DC powered actuators feature self-aligning clevis bearings, are lubricated for life and ideal for rugged outdoor environments. They have an IP65 rating and adjustable double clevis mounts. Available in 24 VDC and 36 VDC they have stroke lengths of 450 mm (18"), 600 mm (24"), 900 mm (36").
Our experience in the solar industry allows us to specify standard jacks and ComDRIVES with specific modifications for solar tracking drive applications requiring up to 50 tons. These are designed to meet your load, travel distance, and speed requirements.
Joyce/Dayton remains committed to providing custom drive solutions to meet unique application demands. Solar installations around the world are driven by custom designed solutions we have developed. These competitive cost solutions include custom actuator housings, materials, and gear ratios. They often include premium external protection.
Joyce/Dayton's experienced engineers; along with their responsive customer service staff provides the optimum customer experience. Talk to us about your requirements today.