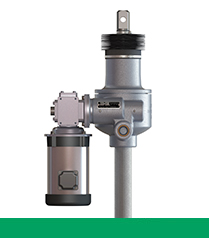 Solar tracking jacks – Innovative Solutions
Each year Joyce/Dayton Corp. provides solar tracking jacks to a growing number of commercial and utility scale installations. Joyce products deliver proven reliability with low maintenance requirements and are easy to install.
Stop by booth 430 at this year's Solar Power International (SPI) Trade Show, September 15-17 at the Anaheim Convention Center. Learn about our innovative drive designs and customer-centric approach to business. At Joyce, we adapt our products to meet your needs.
Stop by and talk to us about your project requirements. Whether you are responsible for large-scale utility installation, or smaller-scale commercial installations, we can deliver quality products engineered for your needs.
With over 140 years of experience, Joyce provides:
Proven Quality
Engineering Expertise
Great Service
Competitive Prices
Our solar tracking jacks are used around the world helping generate more than 2 gigawatts of energy.