Page Header
Solar Tracking Jacks
About Solar Tracking Jacks
Joyce Solar Jacks are specifically designed for heavy-duty solar tracking applications. Available in machine screw and ball screw models, these cost effective and efficient jacks precisely position loads at speeds typical of solar tracking operations.
Configurations are available to meet individual customer tracking and positioning requirements. These jacks are designed for outdoor applications and built to stand up to environmental challenges found at solar installations around the world.
Available in two types: Acme Screw or Ball Screw
Specifications
Cast aluminum housing provides superior corrosion resistance
Up to 48 inches of travel, can be customized to your requirements
Cast housing includes trunnion for simplified mounting and installation
Optimized drive efficiency for lower power consumption
Low maintenance for reduced operating costs
Stainless steel clevis provides corrosion resistant end condition
Bellows boot provides protection for the screw
Options
AC or DC motor
Position sensor
Limit switch
Flexible jack designs available for loads ranging from 250 lbs. to 50 tons
Motor Control Options
Joyce/Dayton offers motor controls ranging from simple Motor Starters to complex positioning systems and Custom controls. Every system that is powered by an electric motor requires a control system. At Joyce, we know that choosing the best option can sometimes be a challenge. That's why our Engineers are available to help you through the process.
Product Media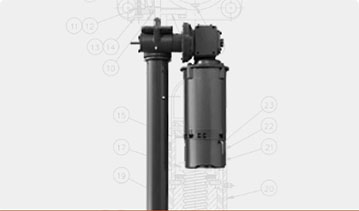 Available Models