Metric Screw Bearing Blocks
Metric Screw Bearing Blocks
Joyce/Dayton bearing mounts are sealed and greased at the factory. They are suited for high duty cycle conditions where frictional forces cause a thermal transfer of energy into the screw assembly. The resulting thermal migration will cause the screw to expand axially. Screw end machining and fit of the bearing support are designed to account for this expansion.
See the table below for dimensional details based on metric screw part numbers. Bearing blocks used in screw & nut assemblies may not be rated for the same static load as the screws or nuts with which they are used. Contact Joyce/Dayton to verify that bearing blocks are adequately sized for the required loads.
Standard bearing blocks are available for screw diameters between 20 mm. and 55 mm. diameters. See the chart below for more details.
Product Media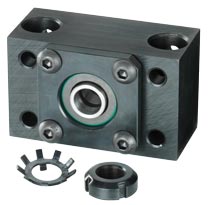 SB Bearing Blocks

Screw Number
Bearing Mount No.
A
B
C
D
E
F
G
H
I
J
K
TS020R005A
SB-12
3.000
1.875
1.000
0.375
1.125
1.125
2.250
0.672
1.344
.281 (4x)
.406 Thru
TS020R005A
.625 C'Bore
.875 Deep
TS026R006A
SB-15
3.500
2.125
1.125
0.375
1.375
1.250
2.500
0.813
1.625
.281 (4x)
.406 Thru
.625 C'Bore
1.000 Deep
TS030R006A
SB-20
4.500
2.750
1.438
0.500
1.750
1.625
3.250
0.938
1.875
.469 (4x)
.656 Thru
1.000 C'Bore
1.312 Deep
TS040R009A
SB-25
6.500
3.690
1.875
0.875
2.000
2.375
4.750
0.970
1.940
.656 (4x)
.906 Thru
1.375 C'Bore
1.750 Deep
TS055R012A
SB-30
6.500
3.690
1.875
0.875
2.000
2.375
4.750
1.156
2.312
.656 (4x)
.906 Thru
1.375 C'Bore
2.060 Deep
FB Bearing Blocks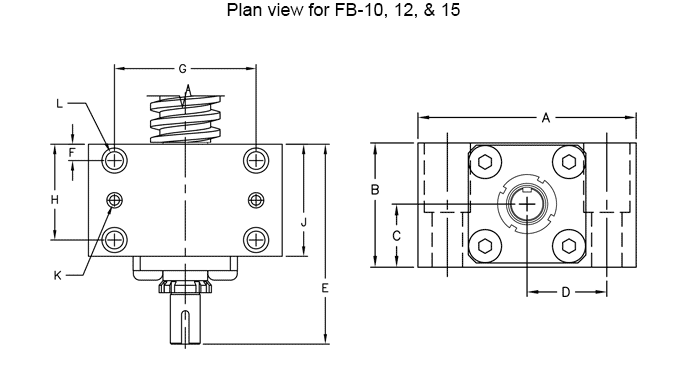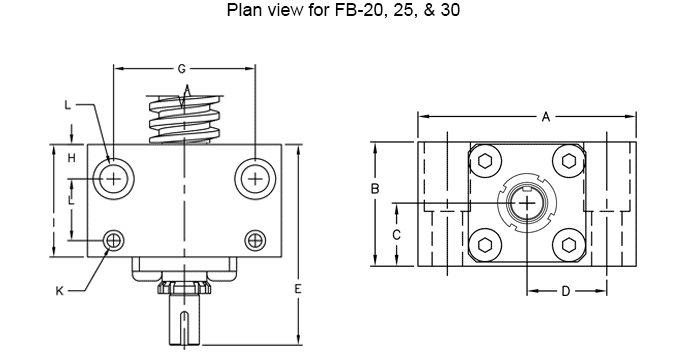 Screw Number
Bearing Mount No.
A
B
C
D
E
F
G
H
I
J
K
L
TS020R005A
FB-12
3.000
1.875
1.000
1.125
4.262
0.438
2.250
1.688
1.063
2.125
.250 Thru
.406 Thru
TS020R005A
.375 C'Bore
.625 C'Bore
#5 Taper Pin
1.130 Deep
TS026R006A
FB-15
3.500
2.125
1.125
1.250
4.585
0.500
2.500
1.875
1.188
2.375
.250 Thru
.406 Thru
.375 C'Bore
.625 C'Bore
#5 Taper Pin
1.310 Deep
TS030R006A
FB-20
4.500
2.750
1.438
1.625
5.015
0.937
3.250
N/A
2.125
2.750
.437 Thru
.688 Thru
.687 C'Bore
1.000 C'Bore
#8 Taper Pin
1.625 Deep
TS040R009A
FB-25
6.500
3.690
1.875
2.375
5.977
0.970
4.750
N/A
2.750
3.250
.437 Thru
.937 Thru
.687 C'Bore
1.375 C'Bore
#8 Taper Pin
2.250 Deep
TS055R012A
FB-30
6.500
3.690
1.875
2.375
6.595
1.156
4.750
N/A
3.225
3.725
.437 Thru
.937 Thru
.687 C'Bore
1.375 C'Bore
#8 Taper Pin
2.250 Deep
DB Bearing Blocks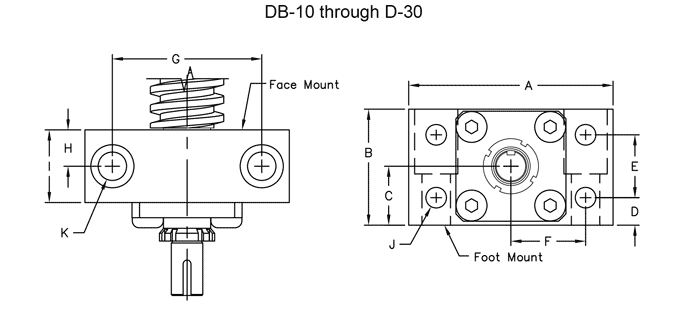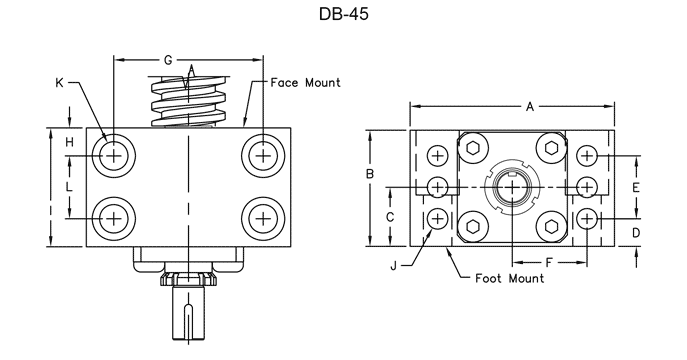 Screw Number
Bearing Mount No.
A
B
C
D
E
F
G
H
I
J
K
L
TS020R005A
DB-12
3.000
1.875
1.000
0.375
1.125
1.125
2.250
0.672
1.344
.281 (4x)
.406 Thru
N/A
TS020R005A
.625 C'Bore
.875 Deep
TS026R006A
DB-15
3.500
2.125
1.125
0.375
1.375
1.250
2.500
0.813
1.625
.281 (4x)
.406 Thru
N/A
.625 C'Bore
1.000 Deep
TS030R006A
DB-20
4.500
2.750
1.438
0.500
1.750
1.625
3.250
0.938
1.875
.469 (4x)
.656 Thru
N/A
1.000 C'Bore
1.312 Deep
TS040R009A
DB-25
6.500
3.690
1.875
0.875
2.000
2.375
4.750
0.970
1.940
.656 (4x)
.906 Thru
N/A
1.375 C'Bore
1.750 Deep
TS055R012A
DB-30
6.500
3.690
1.875
0.875
2.000
2.375
4.750
1.156
2.312
.656 (4x)
.906 Thru
N/A
1.375 C'Bore
2.060 Deep